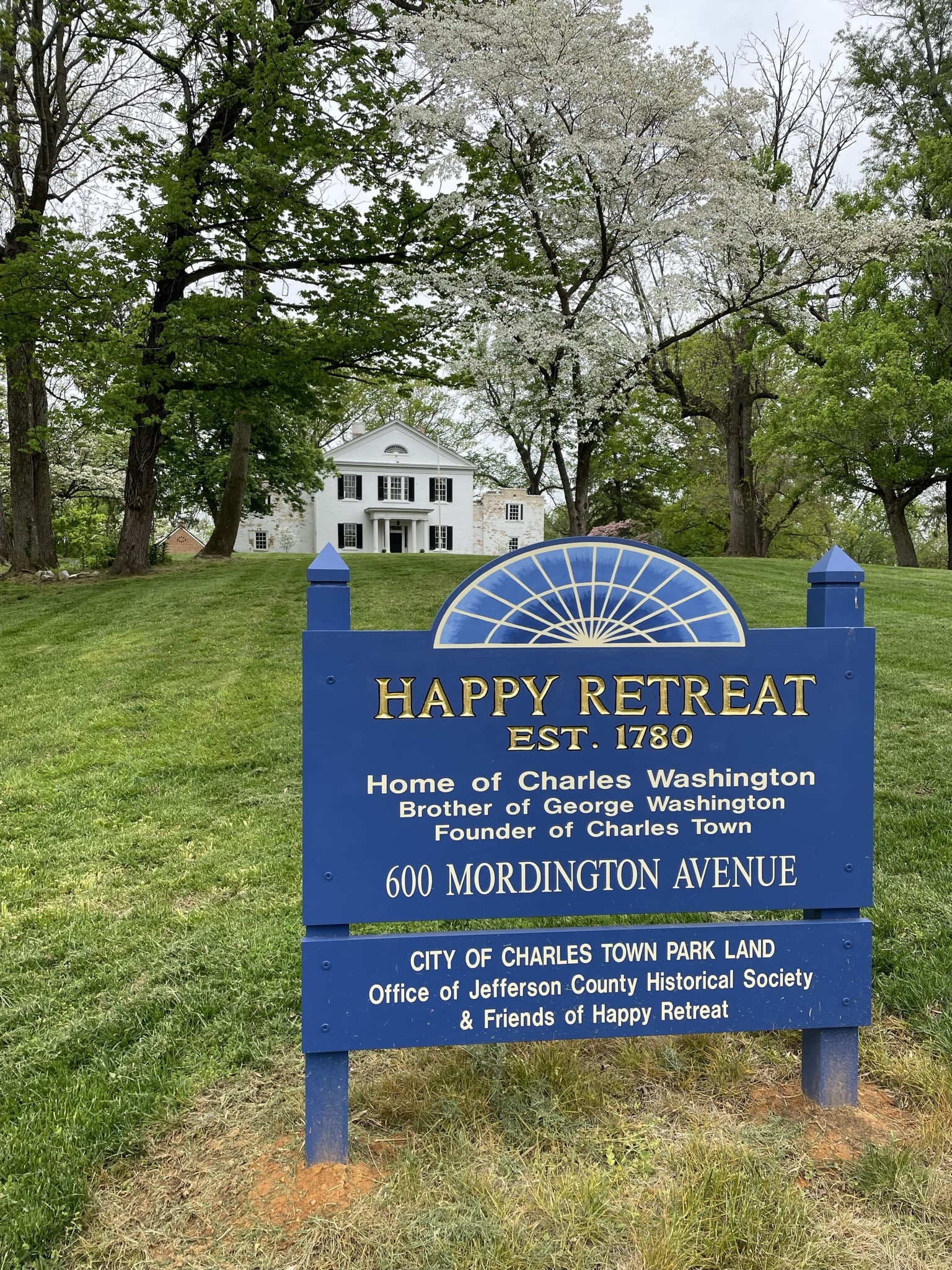 The Friends of Happy Retreat was founded in 2006 to respond to concerns of residents of Charles Town, West Virginia, about Charles Washington's home, Happy Retreat, and its vulnerability to development in the state's rapidly growing Eastern Panhandle—just 55 miles northwest of Washington, D.C
The City of Charles Town commissioned a property appraisal in January 2006 that indicated the property could be subdivided for residential development. Meanwhile, the Friends of Happy Retreat was launched as a 501(c) 3 nonprofit dedicated to "acquiring, preserving, and utilizing the property for public benefit."
Among the organization's first order of business was a survey conducted to determine the feasibility of the project. This survey found near-unanimous agreement that the Friends' vision for Charles Washington's Happy Retreat as a public resource for education, enjoyment, and economic development through heritage tourism is very important to the city, region, and state.
Executive Committee
President. Walter Washington is a direct descendant of Samuel Washington (1734-1781), brother of President George Washington and Charles Washington. He has a law degree from American University and is a practicing attorney in Charles Town. Walter is the owner of Samuel Washington's home, Harewood, built in 1770 near Charles Town.
Vice President. J. Randolph Hilton was a labor relations specialist for the government of Montgomery County, Maryland, until his retirement. He served as mayor of the City of Charles Town and remains active in Jefferson County and Charles Town public affairs.
Treasurer. Richard Seckinger, originally from Philadelphia, is a retired air traffic controller. Served as treasurer for 9 years of Zion Episcopal Church, Charles Town; Board of Directors of The Old Opera House; Treasurer & VP of AIDS Network of the Tri State Area; and Distinguished Past President of Lawncrest (Phila) Kiwanis Club. Also a volunteer with the Animal Welfare Society in Jefferson Co. An avid history buff and a diehard Phillies fan!
Board Members
Marjorie Gaestel – Board Historian/Archivist is retired after serving 25 years as a bookkeeper with the Point Pleasant, New Jersey, Board of Education. She attended Ocean County College, N.J. She is a member of the Point Pleasant Historical Society, an avid genealogist, a member of the Bee Line Chapter of the Daughters of the American Revolution, Daughters of Union Army Veterans of the Civil War, 1861-1865 and a student of Washington family history.
Margie Fithian, a resident of Monterey, California has deep family ties to Charles Town and Jefferson County through her husband, Taylor Fithian, grandson of R.J. Funkhouser. A mother of 2 daughters, she has served actively on numerous school boards and committees as well as local fundraisers and charity events. She has worked in the medical field and as a teacher. Having recently purchased and restored Cedar Lawn, a beloved family home, and a historical Washington home, she has developed a keen interest in preserving the historical and family legacies of Charles Town.
William E. Jackson, now retired, practiced law for more than 40 years in Washington, D.C. Educated as an engineer and lawyer, his practice dealt with intellectual property and business litigation. His activities have included Moot Court Judge for Intellectual Property Competition, George Washington University Law School. He has also been active with the Land Conservancy of Adams County, Gettysburg, Pennsylvania; and the preservation of his family farm located near the Gettysburg Civil War battlefield.
Kenneth (Kenn) A. Miller is a direct descendant (5th great grandson) of Charles Washington (1738-1799), brother of President George Washington. He has an electrical engineering degree from West Virginia Institute of Technology (1983) and is a Senior Electrical Engineer in the Office of Nuclear Research for the US Nuclear Regulatory Commission in Rockville, MD. Kenn and his wife Michele reside in Shepherdstown, WV and they have two daughters.
Bill Senseney was born and raised in Jefferson County and is now retired. After receiving a BS in business administration from West Virginia University, Bill took over active management of the family business. In the ensuing 15 years, he raised a family, farmed, served as president of the Charles Town Retail Merchants Association, became a member of the Jefferson County Planning Commission, and began distance running. Bill served eight years as sheriff and treasurer of the county and four terms as Magistrate.
Robin Huyett Thomas, a resident of Charles Town with roots deep in West Virginia, is an accomplished interior designer, painter, and potter with bachelor of science degrees in fine arts and interior design from the University of South Carolina and Virginia Commonwealth University, respectively. As a commercial interior designer, she has managed projects for many government agencies, including the Department of Defense, which presented her with two awards for her work on the post-911 Pentagon reconstruction program. Active in civic affairs, she also plays polo and has chaired the Friends' major fundraiser, the Washington Family Homes Tour.
Matt Ward has lived in Charles Town for 17 years and served as a city councilman for eight years. He is the CEO of Sustainable Strategies DC, a government affairs & strategic consulting firm helping local government and non-profit clients obtain resources for community revitalization & tools for success in the green economy. Previously, he was a partner at The Ferguson Group, a Washington DC government affairs firm, and a partner at the law firm Spiegel & McDiarmid. He has degrees from the American University (BA 1991) and the University of Virginia (JD, 1994). He has been active in civic improvement and historic restoration projects including the revitalization of Fisherman's Hall, an African American community center; the restoration of historic Charles Washington Hall; and the preservation of the Murphy Farm and other properties at the Harpers Ferry National Historical Park.
Chet Hines was born and raised in Charles Town, West Virginia. He became a Vietnam Vet in 1969-70.  After departure from the Army he started working for the CIA and retired after 30 years. In that time he raised 3 sons who have been very successful in life. Knowing Charles Town, he became a real estate agent and currently has been a Charles Town Councilman for 11 years. He is a member of the VFW and has been commander of the American Legion Post 71. Currently he handles landscaping at Happy Retreat and the Charles Town Park located around Happy Retreat.
Georgia R. Gessler is originally from Ohio, growing up with seven sisters and three brothers. Retired in 2018 as Parish Administrator/Secretary from historic Zion Episcopal Church in Charles Town. A Jefferson County resident since 1980, she is a mother of four sons and grandmother of seven. As a mother of twin boys, she is the treasurer of Shenandoah Valley Parent of Multiples and has been the club's newsletter editor for 40 years. Georgia is also active in the regional Mid-Atlantic Parents of Multiples organization, serving on various board positions and committees. She is a regular volunteer at Happy Retreat's Beer Festivals.
Chris Cox is a proud father of two teenagers, Anna Grace and Chandler, a grateful husband to the lovely Alison Cox, a happy resident of Charles Town, a local lawyer, and an associate real estate broker.  Born and raised in Martinsburg, Chris and Alison returned to the Eastern Panhandle to raise their family after Chris retired from the U.S. Army in 2016.  Led by their love of West Virginia and its people, Chris and Alison (also a local lawyer) enjoy serving their community through various and sundry local boards and organizations.  Chris is honored to serve as a Friend of Happy Retreat.
Jamila Jones is President of Innovative Community Solutions, a non-profit focused on minority economic development, community resiliency programs and cultural preservation. She is also CEO of Innovative Solutions Technology, woman and service-disabled veteran owned IT government contracting company providing IT and Cybersecurity solutions.  She has called the Eastern Panhandle home for over 17 years and is very active in the community. She also serves the community as a Board Member with various organizations to include the NAACP of Jefferson County, African American Community Association of Jefferson County, the Board of Directors of the United Way Eastern Panhandle, and the Advisory Board of the Bank of Charles Town (BCT).  She is also a proud alumnus of the Appalachian Regional Commission's Leadership Institute.